I'm back from the big island of Hawaii!
First go check out my guest post at A Blonde's Logic
here!!
Here's a vacation recap for all of you asking:
The first day we went kayaking/snorkeling in the ocean. It was my first time snorkeling and as I'm not a big water sports person I was pretty nervous. I'm not a strong swimmer either so being out in the ocean even in beautiful Hawaii made me a little timid. After I got used to not being able to breathe through my nose, I started to really enjoy all of the colorful fish! My favorite animals I saw that day were an eel and a parrot fish.
The second day my boyfriend and I went zip lining which was also a first! This was one of my favorite parts of the whole trip. It's such a beautiful rush! We went down eight zip lines and also crossed a suspension bridge in the jungle. A few of the lines were pretty long and towards the end of the line went uphill. Our guides told us to cradle our bodies into a ball if we felt ourselves slowing down too much otherwise we could get stuck out on the line. I guess I didn't take it too seriously because I got stuck about 15 feet before the landing. One our guides quickly pulled himself over to to where I was, hooked me up to him and pulled us back to the landing. I wasn't worried at that point because we had already been on quite a few zip lines. Needless to say, the next big line I was a cannon ball the whole time. I would absolutely recommend this to ANYONE! We also went to a luau and ate amazing Hawaiian barbeque and watered down Mai Tai's this night ;) The Kona sunsets were absolutely stunning and I loved watching the tribal dance shows.
My second favorite part of the trip was going to the Mauna Kea observatory which is almost 13,000 feet up! You literally drive up over the clouds. Looking down on the sunset is such a beautiful sight. It was 30 degrees at night on the mountain. Luckily I had brought a sweat shirt. After the sunset we sat in the car for twenty minutes to help our eyes adjust to night vision. When we got out of the car we could see hundreds of stars! I honestly felt like I was somewhere in outer space.
We also visited Volcano National Park and took a four mile hike to the crater where the lava had once poured into. The whole hike was volcanic rock or lush jungle habitat. We were able to see a ton of steam vents although no lava was flowing where we would be able to see it. It was so crazy to see!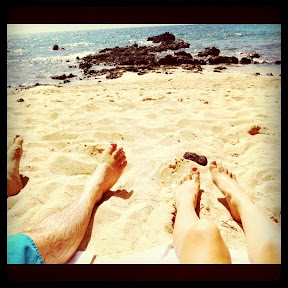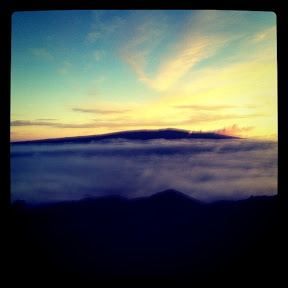 Where was the last place you went on vacation?