There are some goodies to be won this week :)

Enter via Rafflecopter now until this Sunday 11/4.
The lovely winner will be announced Monday 11/5.
is giving away 1 large ad space for November!
is giving away 1 month's ad space!
Posted by

Hollie Ann
No comments:

I know I speak write for both Chelsea and I when I say this link up has been a blast and I can't wait to read about your experiences!
I hope you all have received your cards by now. If you haven't, feel free to link up with us later this week....
and shoot your partner an email confirming the date they sent it.
I was paired up with Kaity of
Brownie Diaries
by coincidence and couldn't be happier! Kaity has sponsored this blog a few times and I LOVE her style. She wrote the sweetest note to me about my blog and how my personality shines through my writing...and to say it made my day is a complete understatement! We all too often compare ourselves against others and our own expectations. I find myself doing the same with my blog. My blog is not even close to where I'd like it to be but having such a motivational note from Kaity just really reinforced my feelings to keep going in the right direction. Thank you Kaity! It was great getting to know you a little better through this :)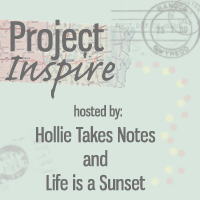 Posted by

Hollie Ann
3 comments: