Ah!! I'm so excited today!
Why?
Well
(1)
tomorrow is Friday! And
Follow Friday
at that!!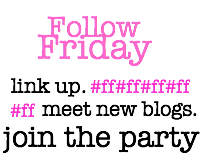 and
(2)
I have one of the cutest bloggers guest posting for me today about one of all of our favorite things...PINTEREST!
Jessica's
blog is about everything pretty. And that includes her hair. I have this secret wish to have either long hair and/or a fashionable short cut. Jessica has the latter of the two and I have a serious hair crush on her. My hair is THIIIICK and I'm sure a five year old could do a better job styling my hair than I can. Therefore a short cut just would turn into me having an afro. (Insert sad face here.) Make sure to go stalk all of Jessica's cute hair pictures in her
about
section AND explore all of her fabulous pretty suggestions on her blog.
Hi lovelies!
There is really no limit to what you'll find me posting about over there.
My main goal is to find inspiration in life's little things and share it in hopes of
inspiring one or two more other people! Come say hi - I'd absolutely love to talk to you!
When Hollie asked me to do a guest post on her blog I may or may not have jumped for joy... I really look up to her as a blogger so of course I said, UM YES! :)
So this is what I have for you today:
My Real Life vs. My Pinterest Life
Do you ever wonder what it would be like if you woke up one
morning and all of your Pinterest boards became a part of your real life?!
Please tell me I'm not the only one that has dreamt about this...
A little disclaimer: I promise that I am extremely grateful for my life
exactly the way it is! I just thought this would be a fun little post to do ;)
What I see when I go to bed:
how my outfit pictures are taken:
What I'm doing with my day:
What my workspace looks like:
I sit here and wonder what the heck I spent all of my time doing before pinning came into my life. Oh right, that's back when school came first ;)
If you liked my Pinterest Life, you can find my boards
here
.
Thanks for having me, Hollie!