Hello friends! Today is Follow Friday! Read the end of this post on more info and to link up :)
First though, I'd like to introduce you to miss
Meredith
. It doesn't take long after you're on her blog to realize you're on someone's site that is REAL and genuine. Someone who is who she is. Obviously what you see is what you get. I have SO much respect for that. And, I love her blog design, the tabs are ADORABLE! Her last name is Carlile (HELLOOOOOOO TWILIGHT FANS!;) Sorry if you aren't down with Carlile Cullen, Mer.) So yeah go say hi right meow. You won't be sorry you did! :)
Mer's Memoirs
is my little corner of the internet to share my DIY projects, home decorating ideas, recipes, too many pictures of my dogs and things I'd like to remember for the years to come. Mer is a nickname that those close to me call me, my full name is Meredith, but you can call me Mer. This year I started the Work it Wednesday series to share great exercises, healthy eating tips and other ways to stay in shape and maintain a healthy life. Eating healthy and staying fit are two of my greatest passions and I've learned a lot along the way to living a healthier life, which I love to share on my blog. As you can tell, I blog about just everything, which I like. It's probably the one thing in my life that isn't planned or predictable, and I like it!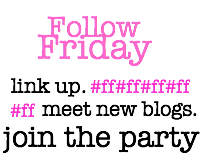 What #FF is.
Follow Friday (#FF) on Twitter allows you to shout out your favorite twitter accounts in hopes that others will follow them.
A way to find new blogs to follow AND gain some new followers.
Follow Friday happens the first Friday of every month. You have one whole month to check out the other blogs til the next one. And you're in luck as 100+ of you have linked up each week! Blog finding mania, yo!
Plus, I'll make sure to link up to the Follow Friday periodically so everyone can check out the directory easily and new readers can get in on finding your blog.
There are no minimum requirements to what you need to do to link up! However, I would appreciate it if you found atleast 3-5 new blogs you'd LIKE to follow and follow them via Google Friend Connect (GFC) Comment and let them know you found them thru Follow Friday! This way, the purpose of this project actually works!
If you follow my blog I WILL follow you back. Leave me a comment saying you're following from #FF and I'll get on it!
There are two categories: Lifestyle/Health and Fashion/Beauty.
Please only link up to ONE category! Pick whichever fits you best :)

Fashion/Beauty Blogs Link Up Here:



Lifestyle Blogs Link Up Here: