Regarding the post title, I just felt like you all needed some Biggie in your life today.
Now for some more fun stuff! :) Tammy from
Lemons, Avocados, and the Bay
is giving away an ad space for the month of April on my blog today! AND I'm giving away an ad space for the month of April on her blog today! So I guess that means this is a giveaway swap?? HOLLA!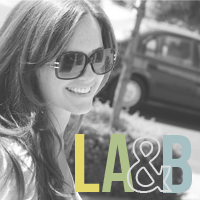 You only have to enter on
ONE
blog's page as the rafflecopter entry system is linked to both of our blogs. We will pick TWO winners one for each of our blogs. It's a short little giveaway, so you only have until this Saturday March 31st to enter! (( If you win and have already
sponsored
for this month, I will credit you for May :) don't fret))
Mandatory entry requirements:
1. Follow my blog via GFC
1. Follow me on twitter @itsmehollieann
2. Follow Tammy on twitter @bayparkdream
3. Like Tammy on facebook
here
4. Tweet about the giveaway!
Easy does it! The winners will be chosen randomly and announced April 1st.
Best of luck and thank YOU for being my friend!