Cara accessories has really stepped up their game this season. A lot of their stuff is still hit or miss, but from what I've seen they're headed in the right direction.
So many reasons why I love these bangles! At $28, the gold isn't that bright, gaudy, cheap material. The stones aren't super shiny which is another tell tale sign of cheap and junky. I love the pale green bangle the most but would actually purchase the white or orange as they both pass as a neutral. That way they both match with much more and my $28 goes a lot further.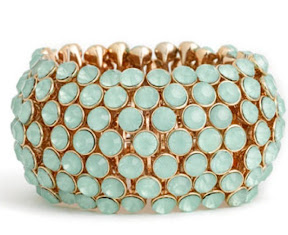 This stretchy bracelet is $48 and also comes in white. I'm partial to this bracelet more just because I can't stand the feeling of a giant bangle falling up and
down my forearm...but that's just me! This is another great item for everyday or night.
This hat is adorable for a day out in the sun. I love the flower detail, it's the perfect size for the brim. It's $43, and comes in a darker chestnut, black, and white. What's your favorite?