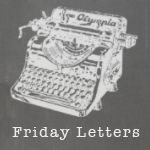 Dear This Weekend
, HOLY HOTNESS! San Diego is finally catching up to the rest of y'alls summer. It's 108 today and tomorrow does NOT look any better.
Dear Next Week,
I am pumped for you. I'm going to see TWO plays and a beer festival for my best friend's birthday. How did you all end up in the same week!?
Dear People Saying "You Look Tired Today",
Don't you know that is not polite? And I thought I was doing a fabulous job managing my time this week. Oh and I got eight hours of sleep last night....
Dear Sunflower Seeds,
Apparently I'm not digesting you...if you know what I'm saying. ;) (People can blog about placenta but I can't blog about sunflower seeds? Come on people ;) haha)
Dear Fashion Bloggers I Followed On Instagram During Fashion Week,
BIG mistake on my part. Don't make me want to shop, PLEASE. Please use this post as your official notice of eviction from my instagram newsfeed. Regretfully, Hollie.
Dear Readers,
There's a snail mail card swap signup happening on this blog on Tuesday! Have a fabulous weekend and can't wait to read all about it Monday!