Today I'm linkin up for some Speed Dating! And by that, I mean, you all get to learn a little about me. Except I probably won't be as conservative with you as I would on a first date ;) Best foot forward is over with you all...I appreciate my privacy so I'm sure there's a ton about me you don't know!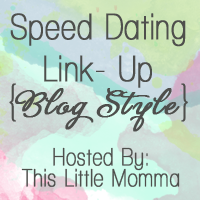 I'm Hollie! Nice to meet ya.
I'm twenty five, soon to be twenty six. (Ah.)
I was born in Rhode Island and have lived all over the country! I've been in Southern California since I was seven.
I went to FIDM in LA and got my AA in Merchandise Marketing.
I work in sales.
I'm the oldest of three.
You may know this, but I am still in school pursuing a BA in Communications. That means I'm watching your nonverbal behavior...
I get really excited to drink water. I am a water fiend. (Shouldn't we all be!)
I think I am physically incapable of running long distances....but really...
I am double jointed.
I didn't have any hair until I was two years old.
I am somewhat of a cat lady/cat whisperer. Cat whisperer is less derogative.
I have a small bump in my nose...I guess the medical term is "deviated septum" but hey the Romans once considered that a sign of royalty.
I'm naturally a dishwater blonde. dirty dirty.
I love sports! Basketball, football, baseball...you name it.
I love country music.
And beer/wine...but not in excess.
I can eat a whole jar of pickles, jalapenos, olives.
I've recently become OCD about clean dishes in the kitchen.
I'm kind of a movie buff. I LOVE movies of all genres.
The end....For now...
I almost forgot...FOLLOW FRIDAY

is Friday. Please join in on the fun and spread the word :))