So I originally wrote this as a guest post a few months ago but I recently came across it and laughed my behind off so much at my own past fashion mistakes that I thought I'd share with you all!

Enjoy <3


I'm confessing right now that I've had my many weekends at various clubs in San Diego and Vegas. I've fallen victim to many many don'ts! I'm using my own personal past do's and don'ts to show you all what to keep in mind next time you're ready for a night of drinking, dancing, and eating.

((Play this video for full effect if you can))
Wear stretchy material! Drinking means eating burritos at 2 AM. Or Jimmy John's for those of you in the Midwest/South.
Wear black tights in winter! I think it's cute club chic and not so risque club chic.
Not sure this look is a do as it looks kind of off with a strapless dress, but I was cold!

Shorts can be a serious club DO! You're dancing and drinking right? Why not be comfortable AND cute.
Wear a dress that is too short! Notice I'm using my clutch to cover everyone from seeing my underwear. This is the last thing you want to be doing all night. And showing everyone what color panties you're wearing a la Britney Spears is NOT attractive.
Oh yeah, I did it again. This dress doesn't look that short, but pulling the back down the whole night was NOT fun.
For me, a strapless dress that isn't super tight is killer. I hate wearing uncomfortable clothing!

Look closely....I'm wearing a pink bra. And it shows in pictures. Black under black, nude under white!
The tight at the bottom dress is cute with leggings or if you're not actually going to be dancing. Plus, every girl at the club is wearing this get up. Who wants to be ordinary?
And the Grand Finale of Don'ts at the club: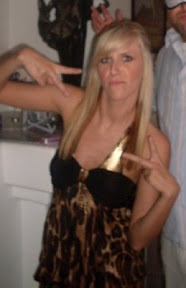 Metallic is hot! Shiny, cheetah, lame is absolutely not. This is a serious "What was I thinking?!"



Here's the dress in it's full effect. And yeah, I wore it again. Sometimes a girl just doesn't learn her lesson :)
Enter the Mrs. T feature ad space giveaway
here!!