I'm very excited to present to you my Summer Style Series! I LOVE reading interviews in magazines, newspapers, online and watching them on television. I'm a firm believer you can learn a lot from people if you listen...or in this case read. Catch a different blogger here sharing style tips and info every day!
First up is Jenna Lee over at
a la mode
. She's one of the first bloggers that paid any attention to my little ol' blog and she made me feel so special. Wait, someone I don't know wants to read my blog?! Although, I'm sure she does that to a lot of you since she has SO many sweet comments every day. Her posts are creative and genuine. She's got her style icons spot on with posts on Gwen Stefani, Diane Kruger, Jessica Alba, and Lauren Conrad. Basically, she's a pro. So sit back, grab a coffee and read away. Enjoy!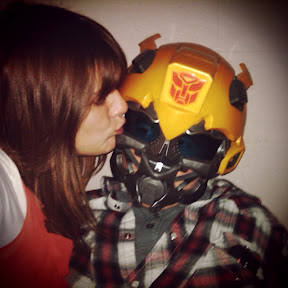 Hollie:
Why did you start blogging?
Jenna Lee:
I wish I had something interesting to say but one day I was online and MSN.com did a feature of popular blogs online. I found A Cup of Joe on the list and my heart sang. I related to her, loved her ideas, and I think I read her blog in a day. While reading some of her posts I thought to myself, why not blog? I love weddings, fashion, products, and trends. I emailed Joanna to get some help in the starting process.Then and there I started my blog. Thank you Joanne Goddard
Hollie:
What's something your readers don't know about you?
Jenna Lee:
There are so many things. One silly thing about me is that if I had the courage I would be completely tattooed with sleeves and all. I have over ten hidden tattoos now, but I would love more.
Hollie:
Describe your personal style in five words.
Jenna Lee:
Simple, Casual, Comfort, Fit, & Sexy
Hollie:
What inspires your style?
Jenna Lee
: I love style that looks comfortable and wearable. Something like a maxi dress that I can dress up or dress down. When i look at Jennifer Aniston or January Jones it truly inspires me. They dress their bodies so well.
Hollie:
What items can't you live without?
Jenna Lee:
WOW! This is hard. I would have to say a simple white tank, good jeans and a great sweater. Fall is my favorite season because my go to look is jeans boots and a fabulous sweater. (I have to mention I also have an insane collection of dresses)
Hollie:
W
here are your favorite places to shop?
Jenna Lee:
Aerie, Kohls, Target, Payless and I splurge on Jbrand jeans
Hollie:
What's the best deal you've gotten lately?
Jenna Lee:
I use Retailmenot.com to get all the promo codes necessary to get great deals online. So Kohls would be my last best deal/purchase.
Hollie:
You can buy any three things. What would you pick?
Jenna Lee:
My dream home (log cabin), A navy blue Range Rover with tan interior, and a house in Maine on a private beach. ( Sorry but I had to go big or go home!... Dream Big Right! )
Hollie:
What would the fashion police catch you on?
Jenna Lee:
When I was younger I wore a neon pink leotard to run track. Not sure why my Mom allowed it but it WAS pretty hilarious.
Hollie:
Last but not least! What blogs inspire you?
Jenna Lee:
What blogs don't inspire me? I get a little inspiration from everyone. I love to see everyone's unique ideas and view on life, fashion, and love. Its been an awesome experience blogging. Its like a whole new group of friends.
Thank you Hollie for giving me this wonderful opportunity. Happy Blogging!
Thanks for sharing Jenna Lee!! Check out her blog
HERE!
and come back tomorrow another great blogger :)