So quick back story...two years ago I went to San Francisco, walked to Little Italy from Union Square and ate the most amazing red pepper sauce pasta at this hole in the wall restaurant. It blew my mind. It blew my mind so much in fact that I don't remember the restaurant's name (or maybe that was because of the amount of wine I had...). I talk about this red pepper sauce mystery meal a few times a year at least. I've been on the hunt to find it somewhere else locally and I haven't been able to.
Fast forward to last week when I found this recipe. I didn't expect it to be on par with my SF meal...but I'm pretty sure it was REALLY CLOSE. This recipe was RIDICULOUSLY easy to make and tasted gourmet.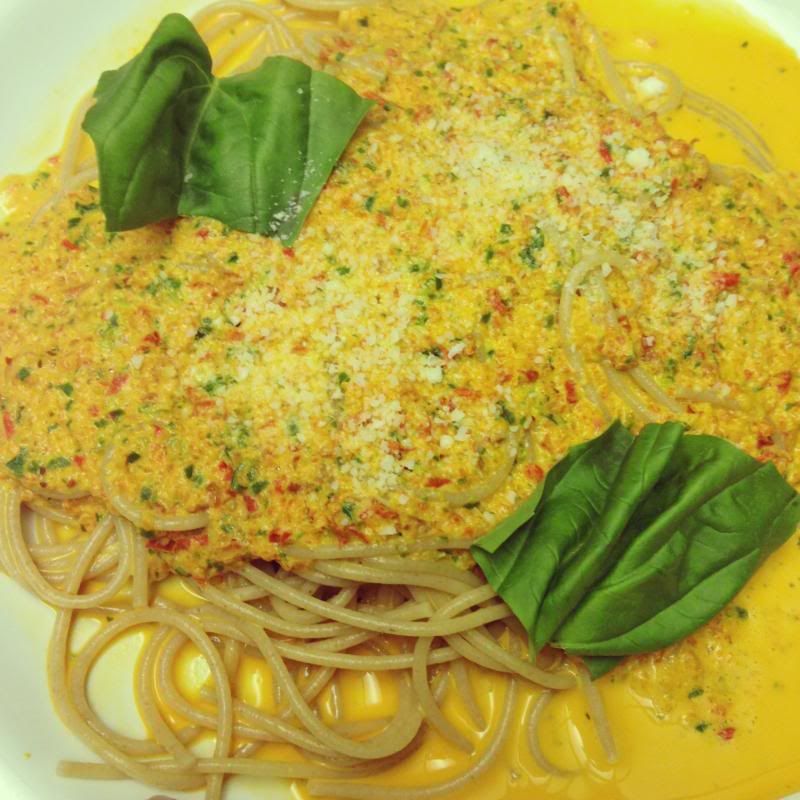 Ingredients
+1/4 cup parmigiano reggiano (parmesan), grated
+2 roasted red peppers, coarsely chopped
+Cook your pasta! We used the spaghetti kind. You can follow the package, or wing it like I do ;)
+Melt the butter in a pan on the stove. Add the garlic and cook for a minute on medium.
+Now add the cream, red peppers, parmesan, and goat cheese until the goat cheese is melted.
+Once your mixture is melted, remove it from heat. Add the basil and some salt and pepper. Put in a blender and mix it up!
+Serve over your pasta and use some basil to make it pretty.
I found this recipe
here.
It's a great website, you should check it out!